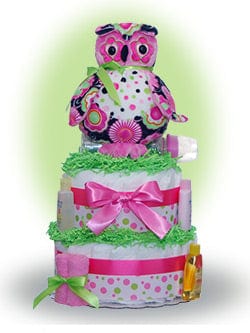 We're introducing our Owl Diaper Cake as a new addition to our Lil' Baby Cakes product line.  I really love the owl theme that is becoming more and more popular today.  I've had this theme design in my head for quite some time, however, I had problems finding an owl plush toy that would  fit the theme.  I'm happy to have found this colorful plush toy to serve as the focal point for this offering.  Here's a description of this design.
This adorable cake starts with a 2 tier base made from 40 Pampers Swaddler 1 diapers.  We then added some colorful dotted ribbon along with pink trim ribbon to set the overall color cue for the diaper cake.  We added a bottle mounted horizontally on the top of the cake to act as a "perch" for the owl.  Our owl is a colorful patterned plush toy that matches popular color themes used for baby showers or in a baby's nursery.
New moms enjoy the Johnson and Johnson baby products so we added the travel size shampoo, baby lotion, and baby powder.  We also added some coordinating crinkly paper and a pink and green bow to complete the diaper cake.
Not shown is the white tulle and ribbon used to wrap the Owl Diaper Cake for baby gift giving.  An optional gift card is also provided to create a personalized message for the new mom and family.
We're excited to offer our customers the Owl Diaper Cake.  Whether you're shopping for a baby shower gift or a baby gift to send by mail, we invite you to consider our new design.  We're sure it will become a popular baby gift the new mom will love.  You can find out more information about this design on our product detail page located here:  Owl Diaper Cake